Summer...... Summer........ Summer.........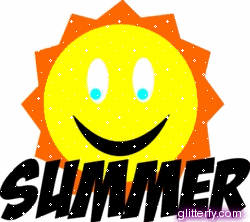 Glitterfy.com - Glitter Graphics
I have already sat my girls down and had our summer meeting and planning session. I did this early so it wouldn't get put off and my girls wouldn't get out of the "work" habit. So far so good. Here's what we have planned:
Mornings- Chores and Homework
1) Scriptures and Breakfast
2) Chores - I have my
chore cards
that I set out each morning and we each get our cards done and out of the way. These have been the best thing for my girls. I can honestly say that there is no whining, complaining, fighting, yelling or nagging when we use these.
3) Homework - every year we have gone to
Barnes and Noble
and picked up workbooks for the next grade level. We do a couple of pages in those to help them keep their smart, school, brain cells from turning to summer mush. This year I am having Cass work on her blog so that she can practice typing, computer skills and work on her writing skills. I thought it would be like pulling teeth but she has already done several blog posts and loved doing it! Miss Amberly
loves
school so much that she is always begging me to do school. "Mom can we do school yet...Mom wake up (pulling my eyelids open with her fingers) can we do school now?"
After we get these things checked off our list it's play time and outside we go. It's working and they are happy which makes this Mama very happy.
What's your summer schedule like?
Chores - no chores?
School work - no school work?
Fun activities planned?
Please share!